Three Emerging Marketing Trends to Consider
Three emerging marketing trends appeared in the news this week. Twitter highlighted brand engagement, Oracle displayed an appetite for ad tech, and Google showed mobile search continues to drive growth.
Emerging Marketing Trends #1 – Twitter Highlights Brand Engagement
In a letter to shareholders on Wednesday, Twitter highlighted fast-food chain Wendy's for its response to a customer seeking free chicken nuggets for a year. The clever exchange "inspired unprecedented engagement," according to Twitter.
The tweet from Carter Wilkerson read "Yo @Wendy's how many retweets for a year of free chicken nuggets?" The brand replied "18 million," which is nearly six times more than the record held by Ellen DeGeneres for retweets. Ellen's selfie from the Oscars in 2014 was retweeted 3.4 million times and Carter Wilkerson has already garnered 3.3 million.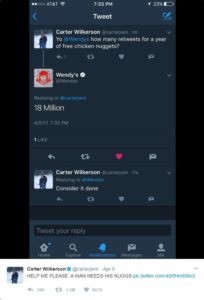 Twitter's statement that its platform is "the best place for advertisers to drive brand perception" may have merit.
Emerging Marketing Trends #2 – Oracle Displays Appetite for Ad Tech
Peter Kafka of recode broke the story that "Oracle will pay more than $850 million for Moat" proving the appetite for ad tech properties is voracious.
Moat audits digital ads to ensure they are appearing where marketers intended. The price tag for Moat is lucrative when you consider it raised nearly $65 million in capital, but makes sense when you consider the $83 billion marketers will spend in U.S. on digital ads in 2017 according to eMarketer.
Oracle plans to integrate Moat in its "data cloud" suite of products while it continues to operate independently.
Emerging Marketing Trends #3 – Google's Mobile Search Continues to Drive Growth
Google reported total ad sales rose 19 percent to $21.4 billion in Q1. According to CNBC, its own services such as YouTube are "grabbing more and more ad revenue from partners" solidifying its dominance in the digital ad marketplace.
"The increase in (Google) sites revenue reflects healthy growth in mobile search," said Alphabet CFO Ruth Porat.
To fuel this growth, Google changed its algorithm to remove fake news and malware and its dropping the rankings of mobile sites that drag down customer experience.