McDonald's Customer Experience Drives Shareholder Value
McDonald's customer experience has made the storied brand relevant again driving an increase in shareholder value. The message from CEO Steve Easterbrook is clear: "Our relentless commitment to running great restaurants and keeping the customer at the center of everything we do is generating broad-based strength and momentum across our entire business." At a time when brick-and-mortar stores are under pressure, McDonald's comparable store sales have increased 6.6%.
The Focus on McDonald's Customer Experience
With McDonald's stock up 36% in the past year it suggests the catalyst was the inclusion of All Day Breakfast. Launched on Oct. 6, 2016, the All Day Breakfast menu is a move customers have wanted for decades. The brand also introduced healthy upgrades such as replacing margarine with butter and removing high-fructose corn syrup from buns. In addition, a move to fresh beef Quarter Pounders will take place in 2018. These decisions reflect the brand's willingness to regard its customers' desire to eat better.
McDonald's is also upgrading the customer experience at its restaurants by adding kiosks. This will allow staff to deliver orders to customers seated at tables. These upgrades have prompted the renovation of many existing locations including the one in Riverside, CT. Due to renovation, it will be closed for many weeks according to Greenwich Time.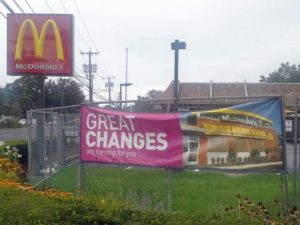 While McDonald's has a notable footprint established by legendary founder Ray Kroc, the brand is adapting to the modern needs of customers. McDonald's has recently added delivery via a partnership with Uber. This partnership will enable the brand to address the rapidly growing segment of home delivery in the Amazon age. This move coincides with the launch of the McDonald's app. Customers who downloaded the app on National Ice Cream Day were offered a free soft-serve ice cream cone.
What Marketers Learn from McDonald's
McDonald's is a beloved brand that continues to innovate its marketing. This latest use case is valuable to marketers who are looking to use customer data to inform wholesale changes. Whether a new brand or an established one, the secret sauce to a successful customer experience is garnering the complete buy-in from the CEO. As Easterbrook said, "Today, we're acting like a leadership brand, taking on new challenges and opportunities and moving with a greater sense of purpose and urgency.  We're building on our momentum, leveraging our size and scale and executing with greater precision against our priorities to retain, regain and convert customers by giving them even more reasons to visit and enjoy McDonald's."
Customer experience represents a sea change in marketing and McDonald's is leading the way. In 2003, the brand paid Justin Timberlake a reported $6 million to sing its ubiquitous jingle that still holds true today: "I'm Lovin' It."