Greenwich International Film Festival Receives GIFFT
The third annual Greenwich International Film Festival (GIFF) generated quite a buzz this weekend. While this year's entries were certainly noteworthy, the festival's new sponsor brought some glitz of its own draped in red, white and rosé. GIFFT Wines replaced Stella Artois as the festival's complimentary libation and gathered rave reviews from its participants. Many remember when the Stella kegs ran dry at last year's festival and a near panic ensued.
Greenwich International Film Festival Asks, What's in a Name?
GIFFT Wines, owned by Kathie Lee Gifford, was the perfect choice for GIFF as the town itself embarks on a broader rebranding campaign. Gifford, an executive board member of the Greenwich International Film Festival, reaped an amplified branding effect as GIFFT comprises the first four letters of her surname which is also the acronym of the town's film festival.
Kathie Lee Gifford, a Greenwich resident, often promotes the town on her successful Kathy Lee and Hoda segment on TODAY. The popular duo of Kathy Lee and Hoda Kotb often imbibe wine each day as if they were at a Sunday brunch. Their glasses are filled to the top staying true to what is known about town as the "Greenwich pour."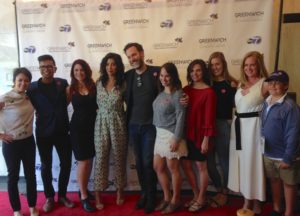 Located near the Greenwich waterfront, GIFF draws more than 60 films with a flood of publicity and tourism that benefits local businesses financially. According to its Fact Sheet, GIFF garnered 280 million media impressions in global news in 2015. It's social media following comprises 45,000 Twitter followers, 32,800 Instagram followers with 13,200 likes on Facebook. Not a bad audience for any brand and perhaps an ideal one for GIFFT Wine.
And the Winner Is …
Beautiful weather greeted the Greenwich International Film Festival on Saturday. This may have influenced the results of our poll taken moments before The Hero showing at 4:30 pm. According to the bartender, the Pinot Noir Rosé took first place. The Pinot Grigio took second and the Red Blend a distant third. A clean sweep of the medal stand for GIFFT Wine and its owner, Kathie Lee Gifford.