Does Kylie Jenner Still Love Snapchat?
The world of influencer marketing backfired on Snapchat this week when Kylie Jenner tweeted that she doesn't open the app anymore. She even punctuated it with "sad" as other influential celebrities do on Twitter. After her tweet, Snap Inc. lost $1.3 billion in market cap due to a sell off of its stock. But was it Kylie's fault?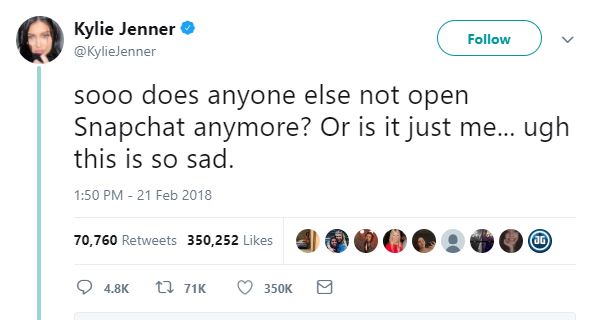 Snapchat had been riding high off its glowing quarterly earnings report. They had an increase of 8.9 million daily active users and year-over-year revenue growth of 104%. CEO Evan Spiegel said, "Our business really came together towards the end of last year." So how could the wheels fall off the bus just three weeks later?
Snapchat opened its platform to create a much better experience for marketers. To fuel this, they implemented a redesign of the site. A furor from loyal users followed when they could not easily find their friends stories in the previous timeline. Now the stories were scattered among tiles featuring ads and stories about celebrities such as Kylie Jenner. Citigroup's confidence was shaken by the number of complaints about the redesign and it put a sell rating on the stock due to the potential decline in daily active users. This downgrade initiated a sell-off. The next day, Kylie Jenner sent her tweet that validated the negative sentiment and caused a deeper decline than Citigroup.
Amidst this crisis, news broke that Evan Spiegel received a $637 million bonus last year. This was the third largest payout to a CEO behind a 2007 and 2008 payout to Daniel Och, the CEO of hedge fund Och-Ziff Capital Management Group. Spiegel's payout happened during a time when shares of Snap Inc. were trading well below its IPO price, which didn't sit well with investors.
It's hard to feel sorry for Evan Spiegel.  To rack up that kind of cash for creating what was initially known as the "sexting app" is no small feat. He emerged as one of Hollywood's elite. His $50 v-neck t-shirts have replaced the black turtlenecks worn by Steve Jobs and he wed supermodel Miranda Kerr in May 2017. While these aren't bad things, they draw concern that he may be losing his edge. That perhaps he will take his fame and fortune and walk away from the wreck unharmed. This may seem plausible except Evan Spiegel said no to Mark Zuckerberg when he offered to buy Snapchat for $3 billion four years ago.
Will Kylie Jenner and Snapchat get back together?
The Jenners have a ton of influence in social media and are often the subject of paid content on Snapchat. But this influence hasn't always paid off for marketers.  Before Kylie's tweet, Kendall Jenner was featured in the Pepsi ad "Jump In" that the brand had to pull the next day due to tremendous backlash. Can Kylie Jenner reverse the trend? As Justin Bieber and Selena Gomez have shown, the public likes when estranged couples reunite. Snapchat would love to script a similar Hollywood ending and Kylie Jenner appears to have left the door open.