How Many Times Can Dove Make the Same Mistake?
Earlier this month, Dove released a 3-second advertisement for body wash on its Facebook page. The video clip began with a black woman taking off her shirt to reveal a white woman. The public backlash was swift. Within days, Dove, a Unilever brand, pulled the ad and issued an apology via social media: "An image we recently posted on Facebook missed the mark in representing women of color thoughtfully. We deeply regret the offense it caused."

Unfortunately, this is just Dove's latest advertising gaffe. Dove's "Real Beauty" campaign debuted 13 years ago, stressing positive images of women of all shapes, sizes and races, questioning stereotypical standards of beauty. The campaign enjoyed years of accolades from the public and the advertising community. In recent years the messaging has taken a few wrong turns.
A History of Advertising Blunders for Dove
In 2011, Dove faced criticism for another racially-insensitive ad. It featured three women wearing nothing but towels. A black woman is standing under the word "Before" and a white woman is standing under the word "After."
In 2014, a new Dove self-tanning lotion listed skin tones as "Fair to Normal" and "Normal to Dark." This led consumers to question if the brand was implying that fair or dark skin tones were abnormal.
In May of 2017, Dove U.K. debuted a new line of body wash bottles of varying shapes to convey the message that "Beauty comes in all shapes and sizes." The public reacted immediately with confusion, humor and the feeling that the once-compelling brand message was becoming patronizing.
The latest controversial (and now removed) Facebook ad was a more egregious misstep. Saying it "missed the mark" in an effort to celebrate diversity is an understatement. While it may not have been the intent, the creators missed the offensive historical context of soap advertising featuring images of "washing the black away."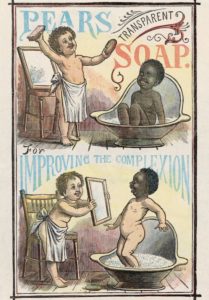 When Social Commentary in Advertising Goes Awry
When advertisers attempt to capitalize on social issues, it's risky and can cause a PR nightmare if not executed well. Pepsi made that mistake earlier this year with its ad featuring Kendall Jenner. The ill-conceived ad seemed to trivialize the Black Lives Matter movement to sell soda. Jenner apologized for being a part of the spot.
Conversely, the Nigerian model featured in the Dove ad has come out in its defense. In an editorial for The Guardian, Lola Ogunyemi said the models featured in the ad were excited to be a part of the campaign, but didn't see the final edit: "Then the first Facebook ad was released: a 13-second video clip featuring me, a white woman, and an Asian woman removing our nude tops and changing into each other. I loved it. My friends and family loved it … I was proud. Then, the full, 30-second TV commercial was released in the US, and I was over the moon again. There were seven of us in the full version, different races and ages … I loved it, and everyone around me seemed to as well. I think the full TV edit does a much better job of making the campaign's message loud and clear."
Ogunyemi makes an important point about context and the impact of editing in advertising. In social media, when a brand's message is often edited down to a quick snippet to grab attention, the meaning behind the message can get lost, or worse, be misconstrued. Without the proper context the audience is left to draw a conclusion based on very little information.
Context aside, racially insensitive imagery and wording is becoming a pattern for Dove. Despite the company's apology, the question now is: after this latest advertising gaffe, will consumers give Dove yet another chance?